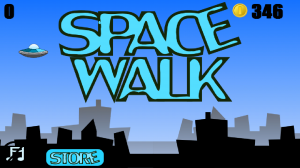 I have published my 4 game to Google Play. This time it is a flappy bird clone that I call Space Walk. Your goal is to go thru an obstacle course. This is one of the small game I did just to get something finished. It took me little more then 3 weeks todo.
I use LibGDX as framwork to code my game. It is a very good and easy coding library to use. It is well documented and the guys on IRC are very helpful. I hope the art stile are fine and you will like to play some time with it.
The music is from Jamendo and some free CC licensed tracks. The artist are Fremito Adeus and the track are called Cassette 8bit. You can just go to Jamendo and download this track for your self if you like it.
You can take a look at the game on this promo video or you can go to the android page and download the game and have a go for your self.